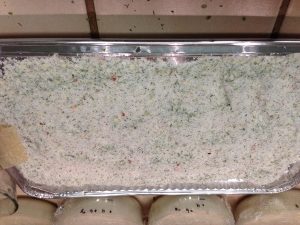 Garlic Herb Salt
Fantastic way of preserving garlic and herbs. Fresh herbs and garlic dry quickly when processed with salt.
Ingredients
60

g

Garlic cloves

peeled

600

g

Kosher Salt or Rock Salt

20-60

g

fresh Herbs

red chile peppers - to taste

edible flower petals

see notes
Instructions
process all ingredients (except flower petals) in a food processor, making sure to not allow the consistency to be too wet or pasty.

spread the mixture out on a baking pan and set outside, or use a dehydrator/warm oven to dry.

while it's drying, stir things up periodically, to keep it from clumping too much.
Notes
Adding some dried bachelor button petals or other brightly-colored, edible flower petals makes the salt blend more fun. Calendula, nasturtium, violets, and bachelor buttons are all edible.
If you would like some of the ingredients to be less processed (bigger), then add them toward the end of the processing time. For example, I like the garlic to be bigger than a grain of salt, so I add them toward the end, then keep processing until they're the size I'm looking for.
Peppercorns do not process (at least in my cuisinart), so use already ground pepper, if you would like pepper in your blend.