Roasted Tomatoes = YUM!!
These are great to have frozen, available at a whim: defrosted and broiled with cheese on baguettes or served on top of chicken breasts with mozzarella…or sliced and added to pasta. Many options here. Or soup! Roasted Tomato Soup is yummier than regular old tomato soup.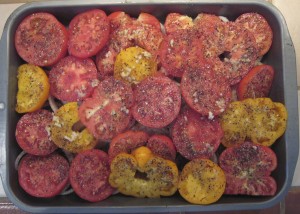 Roasted Tomatoes
Great way of preserving your tomato harvest - make easy additions to dinner menus. Top grilled chicken breasts for a little taste of summer in the winter. See also: Roasted Tomato Soup
Ingredients
4

lbs

Tomatoes

olive oil

salt & pepper

minced garlic

oregano
Instructions
Wash, core and trim tomatoes

Halve the tomatoes horizontally (at the equator)

Arrange the tomato halves, cut-side-up, in a roasting or baking pan

Drizzle with olive oil, season with salt, pepper, oregano, and minced garlic

Roast at 400 F until juices in pan have evaporated and the tomatoes have browned to your liking (1-2 hours)

While they are roasting, periodically move them away from the edges of the pan to make sure they don't scorch
Notes
To freeze individually: let them cool slightly then lay them out on parchment-covered baking sheet or similar, then freeze. Once frozen, I put them, two per pack, into freezer bags. This is how much we would use, normally, for making dinner.
To freeze altogether: pack into pint- or quart-size container, then cover the top with olive oil to keep head-space to a minimum.