Basil pesto is the defining dish for summer in our house. It's great to have on hand, ready-made in the fridge, to go on sandwiches, veggies, meat, and yes: pasta.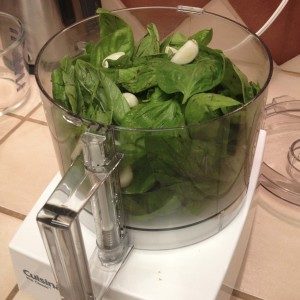 Basil Pesto
Homemade pesto can be used in so many ways, that it's good to have around, waiting to be added to chicken or toast or even a salad dressing. So make sure to make a large batch! Pesto freezes well, so it's a good way to preserve your bumper crop of basil. I freeze it in ice cube trays, so it's pre-measured for recipes.
Ingredients
6

grams

garlic

~3 large cloves don't peel it yet!

30

grams

pecans

1/4 cup

85

grams

basil

2 cups, packed

6

grams

parsley

2 T, minced

extra-virgin olive oil

parmesan

1

teaspoon

salt

more salt to taste
Instructions
Toast the unpeeled garlic cloves in a small skillet over medium heat until softened and spotty brown, about 8 minutes. Shake the pan a few times during the cooking, so they are evenly toasted. Put aside to cool.

Toast the pecans in the now empty skillet, over medium heat, until lightly toasted and fragrant. About 4-5 minutes. Put aside to cool.

After rinsing and drying the fresh basil & parsley, bruise the leaves in a bag with a rolling pin or a meat pounder.

Using a food processor, puree the garlic, nuts, herbs, oil, 1/2 t salt, and chunks of the cheese (if you didn't grate it) until smooth. About 1 minute. Scrape down work bowl as needed.

Transfer the pesto into a small bowl to add the cheese if you grated it. This is also the time to add the salt & pepper to taste.
Notes
The optional addition of parsley prevents the pesto from turning brown too quickly. Using pecans instead of the usual pine nuts adds a touch of sweetness to balance the saltiness. Feel free to use Parmesan rather than Pecorino Romano, if that's what you have on hand. the Pecorino has just a little sharper flavor.