Garlic can be roasted by the head, or as individual cloves. Roasting the individual cloves is best when using roasted garlic in recipes, and is a quick way of preserving.
Roasting Garlic Heads
Roasted Garlic Heads
Instructions
Brush off loose outer skin and dirt from the head

Slice off the top of the head, cutting through most of the clove tips

Set the head in a piece of foil or a garlic roasting dish

Drizzle olive oil over the open cloves, then add a pinch of salt

Snug up the foil, or put the lid on the garlic roaster, if using, and put in oven (or grill).

I'm usually roasting this along with the main meal, so I put it in at whatever temperature I'm cooking with, but 350 degrees should be enough.

It takes about 30-45 minutes, depending on the heat and size of the garlic head. Just keep squishing it to see how soft it is. When done, it will be really squishy and browned slightly.

To use, let the head cool slightly, then you can either use a butter knife to pluck out the individual cloves, or squeeze individual cloves with your fingers. The clove will spread nicely on bread or toast…or anything, really.
Roasting Garlic Cloves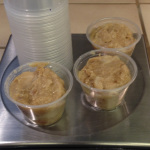 Roasted Garlic - Individual Cloves
Ingredients
5-6

oz

garlic cloves

peeled
Instructions
Place cloves in an oven-safe pan and drizzle with olive oil & sprinkle with salt

Cover tightly with foil and bake for 30 mins at 400 degrees. It can also be done in a pan on the stove, but keep the heat from getting too hot. Since it's usually the hottest part of the summer when I'm putting up garlic, I like to do this on the grill. Foil-covered foil pans, or an iron skillet (covered with foil) work great. Just remember to use indirect heat and shake them around frequently so they don't get too brown.
Notes
To store, I cram the soft roasted garlic cloves into freezer containers and cover with oil, to keep the air out. I like the smaller 1-2 oz containers for this. They'll probably keep for a year, but have never lasted that long at my house.